Hell00000000....is anyone here anymore! Don't choke on a chip, it's been awhile. I've been busy on my Freckle Face Girl Facebook account, but not so much here. Do you follow me there yet?
I'll just hop right back into it like I was never gone. M'kay?
I have been coveting the industrial chairs seen around blogland and Restoration Hardware and Pottery Barn and "Fixer Upper".
I've been wanting a black distressed finish, but it seems distressing costs more. A little strange, right?
Fixer Upper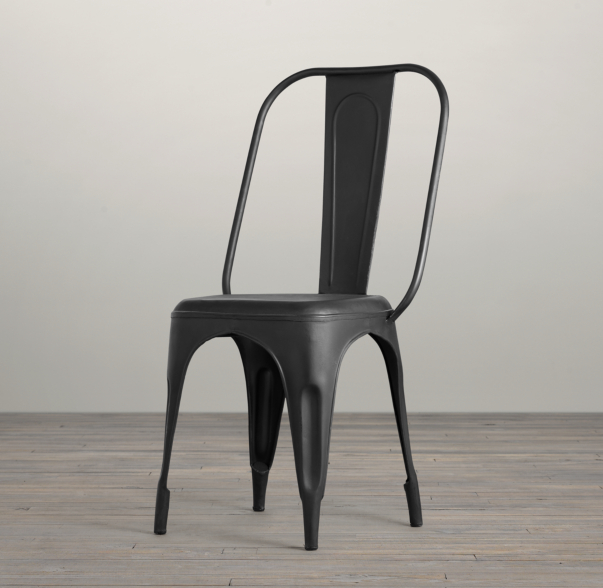 Restoration Hardware
You can find them at World Market, Target and a few other places. But be sure to read the reviews. The chairs at Target seemed great, but apparently people thought they were mini sized. And then I came across these beauties, at Walmart of all places! The reviews were great, and if all else failed, I could return them right down the street. They come in a 2-pack for $125 (but I just bought them for $119, so apparently the price fluctuates). Not too bad, right? They came quickly, packaged nicely with no damage. But....
man ,they were SUPER shiny. Like, really, crazy, shiny! And you know as soon as someone sat down with metal buttons on their pockets, it was going to leave a weird scratch that would be all like "LOOK AT ME!!!". I scoured Pinterest for DIY's on how to age them ,but the only one I found mentioned muriatic acid (which I'd still like to try for rust). So....what's a girl to do?
Get our your sanding blocks of course! I used 2 - a very course grit to knot the laquer completely off, exposing the metal underneath. I sanded all of the places it naturally would wear, along the edges, legs, back and on the seat.
Because the course grit scratches the surface, you have to use the finest grit block to feather out the edges of the distressed spots.
I also used the finest grit to knock down the paint ad shine, not exposing the metal finish, but the primer underneath, which was a really pretty matte gunmetal color. In other places where the chair was still too shiny, I gently did a pass with the fine grit block.
If you use a bottle of hydrogen peroxide a tablespoon of muriatic acid and spray it on, letting it sit for about 1/2 hour, you can instantly create rust in the exposed metal surfaces. A paste wax could be applied to seal the surface so you don't get rusty spots on your clothes.
They do have a shorter back then the other chairs I have, but I like the look of different chairs at the head of the table. These are comfortable for both the adults and kids in my family, not tippy or unstable. They fit all of our backsides just fine (some of the Target reviews noted that adults couldn't fit in the chairs!) Little rubber feet protect the floor.

What do you think? Do you prefer the ultra shiny or the matte distressed?

xo-

Chris